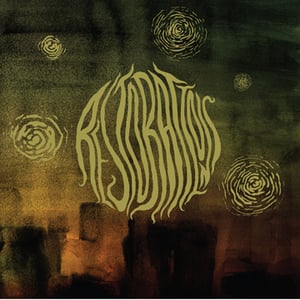 $

20.00 - On Sale
• Shipping Now!
• Order includes an immediate download of the release.
• Available Digitally: iTunes / Bandcamp
Here is an updated version of the Restorations package deal that contains 2 copies - black 180 gram and clear / yellow - of the band's Self-Titled 12" LP.
The clear / black swirl version is officially sold out.
This deal is limited to 20 packages.
Bio
_______________________________
There seems to be a common theme developing within recent reviews for Restorations' Strange Behavior - the terrific four-song EP released last year by Paper + Plastick - which is that this Philly outfit plays music for "grown-up punks." I'm not sure if that's necessarily true as the band's background, touring history and all-around response to its relatively short discography collectively point to the fact that its appeal spans generations of music fans. From hardcore, post-punk, shoegaze, americana, roots rock and even stoner metal, the overwhelming consensus that Restorations' singular sound is difficult to pin down (though it's fun to try) and originates from an undeniably earnest place - something that is universally easy to get on board with.
So from what I can tell, "grown-up punks" is merely a term used to describe what the band is not. It's not music made solely for adults; on the other hand, you're not going to find much in the way of buzz-saw riffs, throat-shredding screams or breakneck drumming. And if you're searching for a record where playing loud and fast trumps playing well, I'd go elsewhere. Of course, that doesn't mean that Restorations' brilliant Self-Titled debut full-length isn't exploding with passion and electricity (it is) and we're certainly not inferring that these eight amazing songs won't rip through your skull before knocking the wind out of you with repeated sonic gut punches (they do). What we are emphatically stating is that if you've been searching for a thoughtful, nuanced take on punk and indie rock - and all the sub-genres they entail - Restorations might just be your new favorite band.
Need proof? Listen no further than the stunning opener "Nonlocality," with its atmospheric, spine-tingling intro, gorgeous harmonies and crushing wall of sound which closes out a track that feels nothing short of epic. For the album's 33 + minute duration, Restorations follows a similar trajectory, creating songs that are intricately layered, tension-building monsters which lean heavily on a rhythm section that could probably knock a hole in the side of a Sherman tank. Still, that never takes away from the band's ability to craft warm, stirring melodies, enduring hooks and dense, dynamic song structures. Cascading guitars, pulsing waves of reverb and spacey flourishes are held together by Jon Loudon's raspy-yet-tuneful growl. His delivery is one that transmits confidence, wisdom and a bit of wear and tear - perhaps from years fronting post-hardcore heroes Jena Berlin - but he also sings with a soulful, youthful exuberance that feels like he genuinely loves the process of creating music.
Perhaps that is Restorations' strength as a cohesive unit - that even though this Self-Titled record is a serious work of art with many subtle complexities, achingly intense moments of restraint and driving need to find a unique voice, it also resonates as if it were an absolute joy to write and perform. Even the pristine recording and production from Algernon Cadwallader's Joe Reinhart allows the band to maintain a raw, loose aesthetic and foundation-shaking low end that owes a much to the members' punk and hardcore roots.
If we were to speak in metaphors, Restorations is like a menacing storm on the horizon, steadily rumbling across dusty plains and jagged mountains and enveloping everything in its path. Its impending arrival is a nail-biting experience and the anticipation is nearly as dramatic as the actual event, which in itself is a moving, white-knuckled affair. Pouring down dense sheets of cathartic sound, Restorations washes away the throngs of stale, unimaginative bands that pollute the once-inspired reservoirs of independent music and breathes new air into tired lungs.
Perhaps that's why this Self-Titled effort speaks so loudly to us "over-the-hill" punk rockers. It's not that Restorations is a band comprised of jaded old punks; it's that some of us have been around long enough to hear (what feels like) everything music has to offer. Every once in a while we need a group to cleanse our palates and get us stoked on the scene again. For these ears - and I'm sure many of yours - Restorations is that band, and the term "grown-up punk" is not about leaving behind the fire of our youth but rather the exciting possibilities and new frontiers that years of experience can underline.
Restorations' Self-Titled full-length was recorded by Algernon Cadwallader's Joe Reinhart (Monument, My Heart To Joy, Snowing) at The Headroom in Philadelphia, P.A. mixed by Jonathan Low (Dr. Dog, Danielson, Me Without You) at Miner Street Recorings in Philly and mastered by Dave Eck (Off With Their Heads, Dead Mechanical, Iron Chic) at Lucky Lacquers in Madison, W.I. Tiny Engines will release the 12" LP version of the record - which features gatefold jackets with artwork / design by Bruno Guerreiro - on April 19th, 2011 while the digital version gets an early March 22nd iTunes / Bandcamp release from the label.
Track List
_______________________________
01. Nonlocality
02. West River
03. Neighborhood Song (mp3)
04. Canadian Club
05. Val d' Or
06. Sideways House
07. Broken Vacuum (mp3)
08. When You're Older (stream)
Pressing Info
_______________________________
* 300 on 180 gram black vinyl
* 150 on clear w/ yellow swirl vinyl
* 50 on clear w/ black swirl vinyl