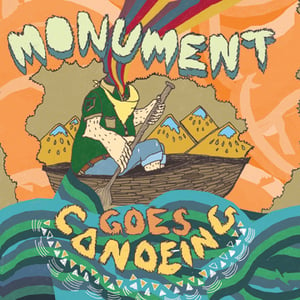 $

27.00 - On Sale
• Shipping Now!
• Order includes an immediate download of the release.
• This is a special package deal that not only contains both the orange and light blue vinyl options for Goes Canoeing, but a third 180 gram black vinyl option as well.
Only 50 of the black vinyl are being pressed, so get on it quick! The band will receive 10 copies (Dan already told me he's putting them on eBay; he's saving up to buy a Capuchin Monkey), there will be 20 copies individually for sale here (update: these are sold out) and of course the remaining 20 will be available in this sweet little deal, which will basically save you about $6.
Score!
And let me take this opportunity to apologize to all our UK and European fans for the high shipping costs. It is seriously expensive to send three LPs overseas.
From post-punk, noise-pop, grungy 90′s indie rock and even the Dischord-styled hardcore of Monument's Washington D.C. home, Goes Canoeing is as loose and raw as it is infectious and intricately layered. More strikingly is how the members of quartet have grown by leaps and bounds as songwriters. Not many people can compose music this dynamic and brimming with energy … that always feels like its on the verge of careening off the tracks while simultaneously transmitting as completely unforced and organic. This is a record that you know took a lot hard work and countless hours to make, yet it all sounds like second nature to the band.
Perhaps Monument's most charming, engaging attribute is its ability to craft songs with depth and complexity, as well as a wealth of peculiar chord progressions and unconventional harmonies. On paper, Goes Canoeing doesn't seem like a record that would drill itself into your brain and stay there for days and days, but songs like "Glass House," "This Is 113″ and "Diamond Age" are teeming with loads of off-kilter pop moments: contagious sing-along choruses, background whoa-ohs, chunky riffs and a propulsive rhythm section that simply doesn't quit, to name just a few. You're as likely to discover a bout of animated hand clapping or an off-the-cuff trumpet solo as you would a wiry, complex guitar line, gruff call-and-response shouting or a swelling instrumental interlude that's more indicative of the current batch of emo revivalists.
Obviously, we love that Monument's foundation was built by bands like Braid and Cap'n Jazz, but there's just as much Meneguar or Teenage Cool Kids thrown in the mix as well. More importantly, let's recognize Goes Canoeing for blazing its own unique path. These are wonderfully skewed, raucous anti-anthems for emo, indie, punk and hardcore kids alike. We thought that Monument would probably dream up with something amazing, but we never expected them to compose a record that would establish a new template for this type of underground DIY music for years to come.
Goes Canoeing was recorded and mixed by Algernon Cadwallader's Joe Reinhart (My Heart To Joy, Restorations, Snowing) at The Headroom in Philadelphia, P.A. and was mastered by Ryan Schwabe at The Maniac Mansion. Tiny Engines will release the 12″ LP version of the record March of 2011.
Each Copy of the LP will contain a free mp3 download code for all the songs.
Track List
_______________________________
01. Untitled
02. Roots Run Deep
03. Glass House
04. No Sleep, All Play
05. Driftwood
06. This Is 113
07. Diamond Age
08. Breakfast
09. I've Got Some Plans
10. Small Mouth, Big Pizza
Pressing Info
_______________________________
* 275 copies on opaque orange vinyl
* 175 copies on opaque light blue vinyl
* 50 copies on 180 gram black vinyl
• Digital version out now via iTunes + Bandcamp
• CD version available directly from the band